Services & Rates
For Deeper Muscle Relaxation
Every service includes soothing warm wrap for your neck or back and a warm towel on your back for deeper muscle relaxation and pampering ($15 value). Services and rates are subject to change without notice.
Swedish Massage
Swedish Massage is a very relaxing and therapeutic style of bodywork. It combines oils or lotion with an array of strokes such as rolling, kneading, and percussion to help the body improve its circulation. The benefits of this type of bodywork are wide-ranging and include relief from aches and pains, decreased stress levels in the body, enhanced mental clarity, improved appearance, and greater flexibility.
Just your Back Massage
Designated to release knots while easing the soreness of the over-worked neck and back muscles. The massage concentrates on your neck, shoulders and back areas where most of your tensions and soreness are held. (In a hurry? try 30 min - $45).
Hot Stone Therapy
Hot Stone Therapy is a style of massage where heated stones are utilized on your body to deepen relaxation and promote circulation in your muscles. Muscles that are heated with these stones release tension and stress much more deeply and quickly than with a traditional massage. The overall experience is very relaxing, nurturing, and rejuvenating.
Geriatric Massage
Geriatric massage is a form of massage designed to meet the specific needs of the elderly. It helps to improve blood circulation, relieve pain, and also increase range of motion. If you are elderly, geriatric massage can help you maintain and improve your overall health, as well as regain certain physical functions that have been reduced due to aging. In addition, since the elderly don't typically receive enough physical touch, this massage can also help alleviate symptoms of loneliness or depression.
Peppermint Scalp Massage
Clear your head and cool your mind! Provides deep relaxation, eases headaches, stimulates the scalp, releases tension, and calms, soothes and enhances your well-being.
Additional Services
Add to any Massage Service for Deeper Muscle Relaxation.
Warm Stone or Mu-Xing - $20 (Incorporated at the end of the massage session), for Deeper Muscle Relaxation.
Hot Towel / Foot Scrub Treatment - $15 - Naturally soothe, hydrate and refresh tired feet. Relax as we exfoliate and wrap your feet in hot towels, gently stretch and compress your feet, followed by a hydrating foot cream.
Biofreeze Professional - $10 - Biofreeze Professional effectively alleviates pain from backaches, arthritis, sore muscles and joints.
Aromatherapy - $10 - Aromatherapy is a powerful way to enhance the effectiveness of massage. It can calm the nerves, promote physical and emotional health, lift the spirits, and energize the body. Choice of Lavender, Eucalyptus and Relaxing.
Products for Sale
Comfort Wraps & Foot Warmers. Convenient & easy, put it around your neck/back while driving to work or home! Give your achy feet a break while keeping them warm. Limited supplies. $20
Lavender/Rose Foot Warmers & Comfort Wrap- Treat tired muscles and soothe tension with the comforting warmth of moist heat therapy or cold therapy. Fragranced with essential oils and natural herbs to help you relax sore joints, restore tired muscles and revitalize your senses.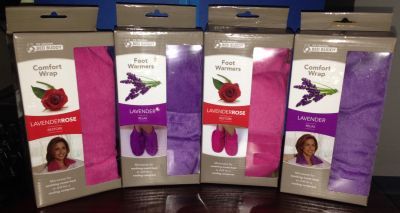 Biofreeze
Biofreeze Professional for sale. ONLY available from healthcare professionals. Best topical pain relieving, long-lasting results, effectively alleviates pain from backaches, arthritis, sore muscles and joints, sprains, strains, and bruises. The optimized propriety formula is made with U.S. Pharmacopeia-grade ingredients and propylene glycol. Also available in dye-free formula.

Gift Certificates Policy:
Give the Gift of Massage Therapy. Show your friends and family you have a stake in their health and wellness by giving them the gift of massage, a known stress reliever. Gift Certificates are perfect for any occasion!
The value of a gift certificate may be applied towards the purchase of products and/or services at JP Massage Therapy. It may not be redeemed as cash. Gift certificates expire one year from the date of purchase. Thereafter, a $5.00 service fee will be deducted each month from the remaining balance.